State lawmaker expresses frustration with the history of missteps by the county elections office.
Anthony Orozco, WITF News
This story has been updated with new information regarding the county's misreporting on the number of precincts in the 129th state House district. It was also later updated with new information about the county's response to issues with poll books.
(Reading) –Election leaders in Berks County are reviewing a number of problems that surfaced in Tuesday's primary election.
While they look into the issues, a state lawmaker said he wants accountability and will possibly pursue legal action due to the missteps.
County officials said they plan to give the public a full explanation of problems that occurred on election night after a thorough investigation is complete.
Poll books encounter problem
The county's plan to rollout electronic poll books went awry when problems with the devices surfaced during in-person voting.
The process of checking in voters was complicated by the hitches with the poll books according county spokeswoman Stephanie Weaver.
"It was a technical issue with the device, not really the training and did not impact the actual vote," she said.
The county is "hiring outside counsel to conduct a thorough investigation" to review the problem with poll books and other issues in the election, Weaver said Wednesday afternoon.
Polling locations did not have paper voter rolls on hand as a backup. They had to be delivered at sites across the county.
Weaver emphasized poll workers were offered more than a dozen training sessions in the lead-up to the election and the issue was not caused by a lack of training.
She also said the decision to use paper poll books was made internally and not prompted by Democratic state Rep. Manuel Guzman Jr. He alerted the public of issues he encountered while trying to vote yesterday morning.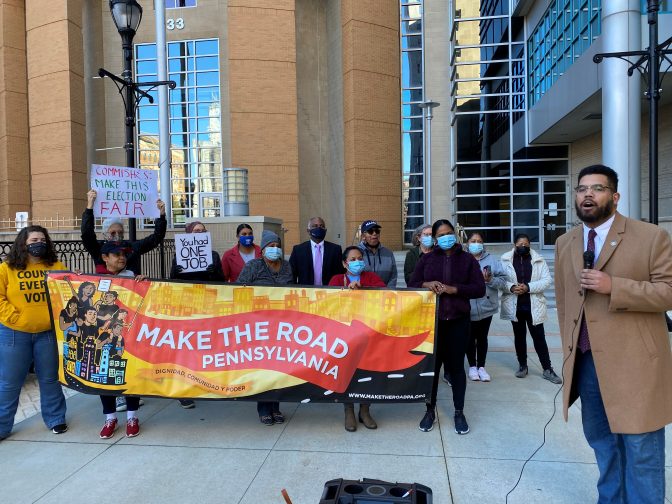 Anthony Orozco / WITF
Democratic state Rep. Manuel Guzman Jr. has decried county missteps in the lead up to past elections.
Guzman said during the check-in process, there was an issue using a mobile printer that produces a barcode on the ballot to identify the voter's party.
The problem put the brakes on voting at the polling station and deterred some people from immediately casting their votes, according to Guzman.
"They closed down that particular polling station, as they started to reach out to the county services department," Guzman said. "Now, I walk outside to start talking to my attorneys … during that time, I personally see two people walk in and walk out."
The Berks Democratic and Republican parties petitioned a county judge to extend poll hours due to the issues, which was granted.
It allowed anyone in line to vote after 8 p.m. to vote by provisional ballot.
Commissioners out of town
County Commissioner Chair Christian Y. Leinbach and Commissioner Kevin Barnhardt, the chair of the county board of elections, were not in town during the primary.
Weaver confirmed their absences, but said they were in constant contact with election leaders throughout the entire day.
Leinbach was attending a national conference for county officials in Alaska. Weaver said Barnhardt was not in Berks for a personal trip.
Commissioner Michael Rivera was working throughout the day.
"They also, I believe, were in contact with different concerned voters who may know them and (were) reaching out," Weaver said. "They were very much in contact with people, available and involved in things."
Guzman said he feels county leadership should have done more.
"Who do we hold accountable?" Guzman said. "Because it seems to me like our county commissioners have abdicated any responsibility towards that."
Precincts misreported
The Berks election results website has misreported the number of precincts in the 129th State House District. On primary night and morning after the county reported "27 of 27" precincts for the newly-shaped district.
But, the district is made up of 28 precincts, according to map and written descriptions on the Department of State website.
The county website appears to have listed the missing precinct as part of the 99th state House District, but reported no votes from the precinct into the 99th's tally.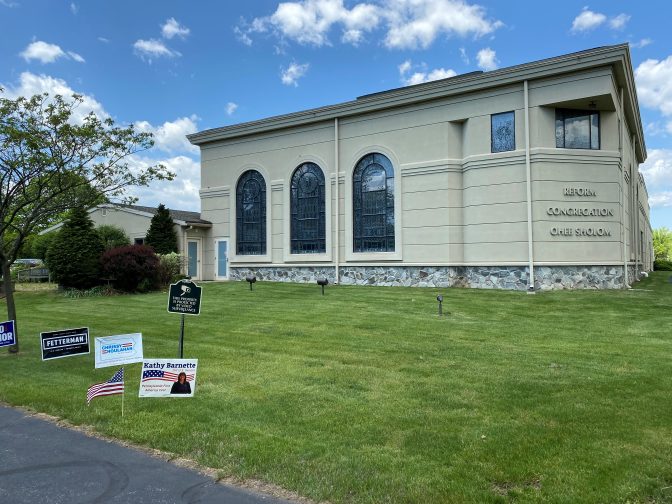 Anthony Orozco / WITF
A polling place in the newly-shaped 129th state House district in Berks.
Weaver said the number of precincts reported was incorrect on the website but the tally of votes is accurate. Mail-in ballots from Monday and Tuesday, and also provisional ballots still have to be counted, Weaver said.
Reading City Council Vice President Johanny Cepeda-Freytiz is currently the projected, potential winner of the Democratic primary in the 129th State House District. It was reshaped earlier this year to give non-White voters more opportunity to run and vote for non-White candidates.
It now leans more Democratic than Republican, a change from it's former iteration.
The county reports Cepeda-Freytiz won by a little more than 400 votes, according to unofficial and potentially incomplete tallies due to the precinct issue.
"I think that the events of this morning are completely unacceptable," Cepeda-Freytiz said Tuesday night. "It kind of speaks loudly of voter suppression because it can't be an accident anymore."
Fellow Democratic candidate for the 129th District, Mark Detterline, did not immediately respond to requests for comments on the issues.
However, Detterline notified WITF of the precinct discrepancy Tuesday night.
History of issues
Guzman was also at the forefront, calling out the county for publishing a later, wrong date for last November's election in Spanish-language mail-in voter information.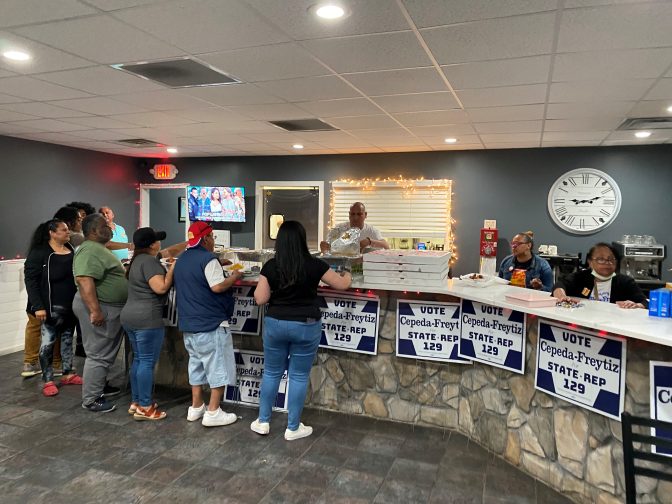 Anthony Orozco / WITF
Campaign workers eat in Johanny Cepeda-Freytiz's downtown Reading restaurant after polling stations close an hour later than originally planned.
A review of late mail-in ballots showed only 35 ballots were received, after the county and civic groups pushed an informational campaign to inform voters of the mistake and the correct election date.
The county received backlash when poll workers were unable to locate many of the Spanish last names and understand Latino voters.
Berks also nearly faced a federal lawsuit over concerns it was not fulfilling obligations Section 203 of the Voting Rights Act to provide resources for Spanish-speaking voters.
"Time and time again, election cycle after election cycle after election cycle, there seems to be some persistent themes that come from Berks County Election Services," Guzman said. "And if there are any legal options we may have to help remedy that situation, those options will be taken with the full force of the law."
---
Anthony Orozco is part of the "Report for America" program — a national service effort that places journalists in newsrooms across the country to report on under-covered topics and communities.