Opportunity districts had tepid results for candidates of color
Anthony Orozco & Gabriela Martínez, WITF News
(Harrisburg) – Last week's primary resulted in several Latino candidates heading to general elections for state offices, and one vying to represent the midstate in Washington D.C.
The decennial redrawing of legislative districts was supposed to give voters of color the chance to elect someone from their community or who understands and represents their interests, according to state leaders who oversaw the process.
Some candidates saw success in newly drawn districts while others struggled to connect with voters. Some did not face challengers and breezed toward November's election.
Carol Kuniholm, head of the anti-gerrymandering group Fair District's PA, said her group is still analyzing the outcomes of the elections in terms of how effective redistricting was in opening the door for non-white candidates.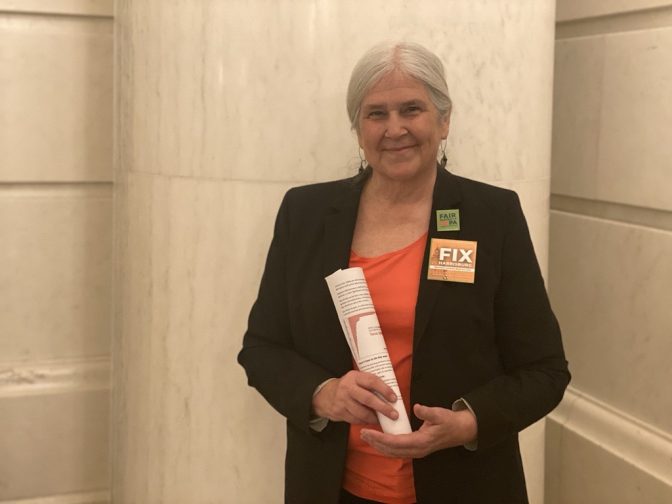 Brett Sholtis / WITF
Carol Kuniholm, the chair of Fair Districts PA.
"Candidates did have success in some places," Kuniholm said. "But overall, I think there were several instances where people didn't have time to put a campaign together because the maps were complete so close to the [filing] deadline."
The window was tight because redistricting maps were finalized in early February and candidates had little more than a month to officially file as a candidate.
Kuniholm said that though the window for aspiring candidates quickly closed this time around, opportunities in coming years remain.
Six notable Latino candidates are headed to the general election in November while nine others lost in separate races.
Kuniholm said she is confident that successful Latino candidates will become more prevalent.
"I would say the encouraging thing is that as those populations continue to grow, the districts are there for them to mount campaigns and be successful in the future," Kuniholm said. "I think there's some added energy that it's possible to participate in a way that was not there before these maps were drawn."
Successful campaigns
Berks County stands out as the only county outside of Philadelphia that had two Latinos win races to become Democratic candidates for state representative in November – Reading City Council Vice President Johanny Cepeda-Freytiz and state Rep. Manuel Guzman Jr.
Johanny Cepeda-Freytiz, Democrat, 129th state representative District — Cepeda-Freytiz's victory was in a district that was dramatically reshaped in the redistricting process earlier this year.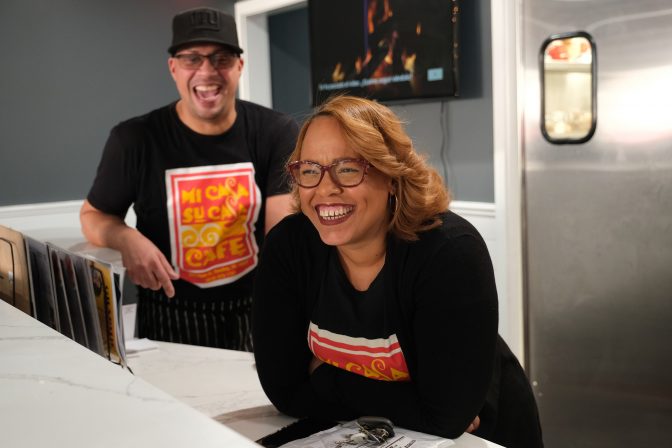 Matt Smith / Keystone Crossroads
Co-owners Felix Freytiz, left, and his wife Johanny Cepeda-Freytiz share a laugh with customers Jan. 15, 2020, at Mi Casa Su Casa in Reading, Pennsylvania.
It transformed from a mostly rural, White, Republican area to a more diverse suburban and Democratic area. It also includes a densely populated section of Latino-majority Reading.
"(I want to do) the will of the people, the work of the people, because that's always what I stand for – people," Cepeda-Freytiz said on election night. "And I'm making sure that they're heard, and that the power is in them. I'm here to take marching orders from the people."
State Rep. Manuel Guzman Jr., Democrat, 127th state representative District — Guzman ran unopposed in his district, which also saw a significant change in voter demographics after redistricting. His area is slightly more White and much more suburban than its former iteration, which was mostly south Reading.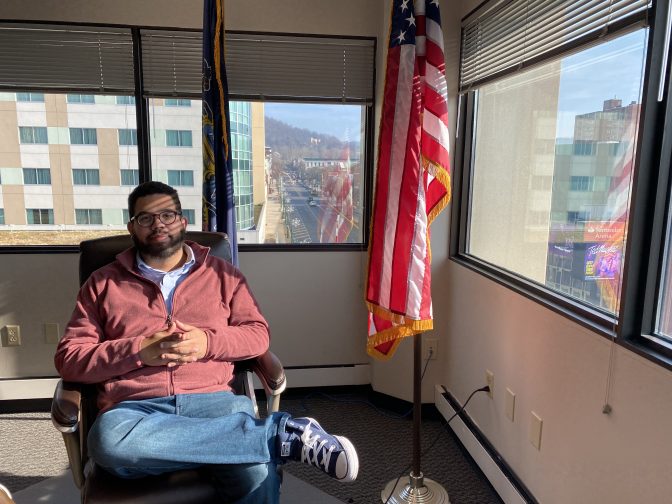 Anthony Orozco / WITF
State Rep. Manuel Guzman in his downtown Reading office.
Both Cepeda-Freytiz and Guzman will face off with Republican opponents in the general election. The two districts lean Democratic, according to Dave's Redistricting App. Total votes for Democratic candidates in both districts outnumbered those cast for Republicans, according to the Department of State.
Yesenia Rodriguez, Democrat, 116th state representative district — Rodriguez, a baker and native of the Dominican Republic, won the Democratic primary to represent a newly created district that is 37% Latino. It covers Hazleton in Luzerne County and parts of Schuylkill County.
In the general election in November, Rodriguez will face Dane Watro, the candidate leading six Republicans who ran in the primary.
The area that Rodriguez is running to represent has traditionally voted Republican. Almost 60% of residents in the district have voted Republican in the last election cycles, according to Dave's Redistricting App.
Jose Giral, Democrat, Democrat 180th state representative district — Giral, a small-business owner, ran unopposed in the Philadelphia district. No Republican ran for the seat. Barring any unexpected changes or formidable write-in challenges, Giral will likely be elected into the General Assembly come November.

Albert Robles Montas, Republican, 182nd state representative district — Robles Montas ran uncontested in the 182nd in the Republican primary. But the November general election will be an uphill battle for the attorney, who is vying to represent an area where more than 85 percent of voters lean Democratic, according to an analysis of voter registration.
Shamaine Daniels, Democrat, 10th U.S. Congressional district — Daniels won the Democratic primary to face Republican incumbent U.S. Rep. Scott Perry in November.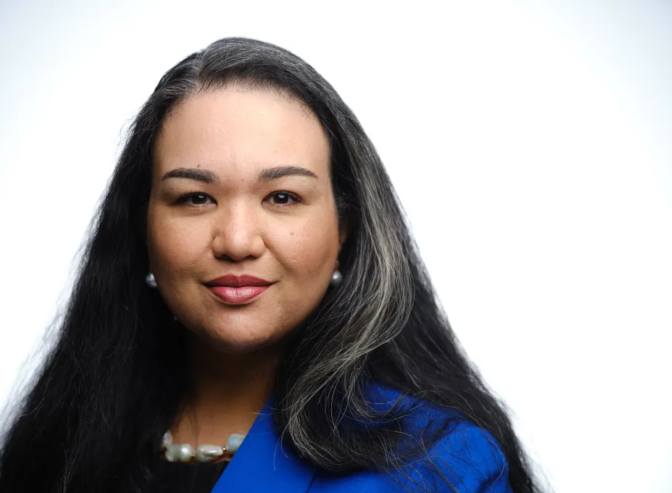 The district that covers York, Harrisburg, Hershey and Elizabethville has remained a Republican stronghold since 2006 and political experts believe it still skews favorably for the GOP.
Unsuccessful Campaigns
Allentown, the third largest city in the state, had garnered a notable amount of attention for Latino leaders saying redistricting actually made it harder for Latinos to win. Latinos make up the majority of residents there but they are lacking Latino representation in Harrisburg.
Enid Santiago, Democrat, 134th state representative district — Santiago gained about 36 percent of votes in the district that includes Emmaus and parts of Allentown and Salisbury Township. She lost to incumbent state Rep. Peter Schweyer, who has been state representative for the 22nd state House District since 2015.
Both candidates found themselves in a different district than previous years after the redrawing of district lines was finalized in February. The 134th has 17 percentage points fewer Latinos than the 22nd district had, which Latino leaders in Lehigh decried in the lead-up to the election.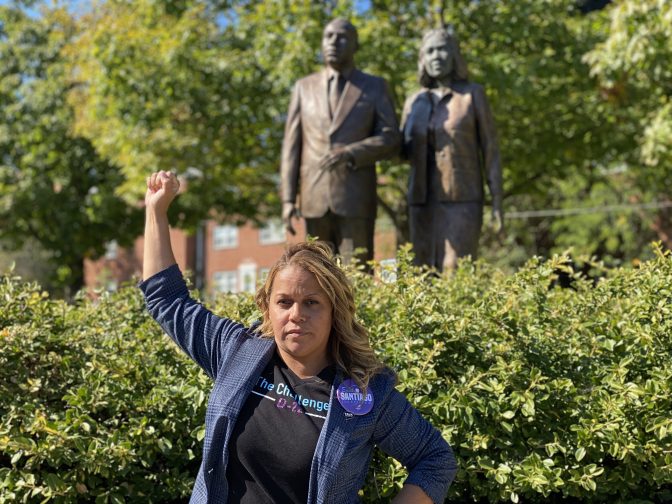 Anthony Orozco / WITF
Enid Santiago in Allentown.
Santiago has butted heads with the Democratic political establishment in Allentown since she narrowly lost a primary to Schweyer in 2020.
"People who have my life experience are not supposed to run for office. I did anyway," Santiago said in a concession statement. "Do not listen to people who tell you to sit down and wait your turn. Keep it moving."
Yamelisa Taveras, Democrat, 14th state senate district — Taveras, director of Latino advocacy organization Unidos, failed to secure nomination for the district which covers parts of Lehigh and Northampton counties.
She received the least amount of votes in the three-way race, receiving about 15%, according to unofficial results.
Omy Maldonado, Republican, 14th state senate district — Maldonado, a U.S. Marine Corps veteran, also ran and came in last place in a three-way race for the Republican nomination for the 14th state Senate District.
Janet Diaz Temin, Democrat, 49th state representative district — Diaz lost to Ismail Smith Wade-El, who got 70 percent of the votes, according to unofficial results.
Diaz had endorsements from major Latino advocacy groups, such as the Democratic Latino Caucus and Spanish American Civic Association, a center that provides services to Lancaster's Hispanic community.

On the day before the election, Penn-Capitol Star reported that Diaz had lost endorsements from several Democratic state lawmakers because of questions regarding her stance on abortion.
Diaz said she is going on a sabbatical from the public spotlight.
"I'm not going to sulk. I don't sulk," Diaz said. "It's just another loss of a Latino to represent us, and the lack of representation will show in the future."
If he wins in November, Smith-Wade-El will be the first Black lawmaker from Lancaster to be elected to Pennsylvania's state legislature. He says his plan going forward is to unite voters from the district across race and ethnicity on issues such as affordable housing, protecting the right to vote and access to childcare.
Dyllan Angelo Ogurkis, Republican, 116th state representative district — Ogurkis, a former grassroots engagement director for Americans for Prosperity, lost the Republican nomination for the Hazelton-area district to Michael La Rocca, who will face off with Yesenia Rodriguez in the fall.
Deja Alvarez, Democrat, 182nd state representative district — Alvarez, director of community engagement for the LGBTQ healthcare nonprofit World Healthcare Infrastructures, lost a four-way primary to Benjamin Waxman for that 182nd state House district in Philadelphia.
Jennie Jenkins-Dallas, Republican, 103rd state representative district — Jenkins-Dallas, publisher and editor of La Voz Latina Central newspaper, lost her bid for Republican nomination for the Dauphin County district. She received nearly 30 percent of the vote.
Regina Mauro, Republican, 6th U.S. Congressional district — Mauro came in last place in her four-way race for the Republican nomination for the district that covers parts of Berks and Chester counties.
Ray Sosa Jr., Democrat, lieutenant governor — Sosa, of Montgomery County, came in last against two other opponents for the Democratic nomination for lieutenant governor.
Anthony Orozco and Gabriela Martínez are a part of the "Report for America" program — a national service effort that places journalists in newsrooms across the country to report on under-covered topics and communities.