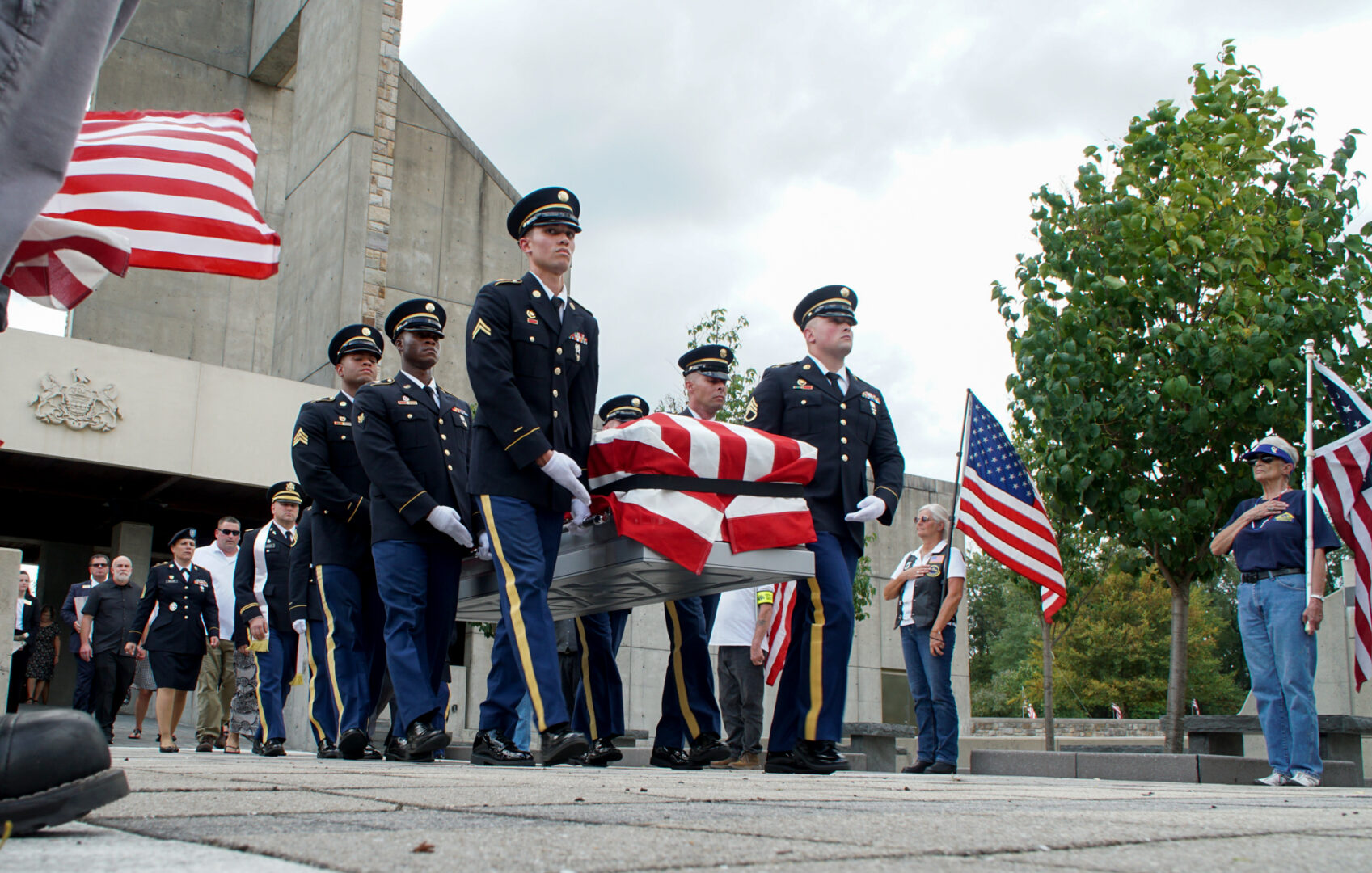 Jeremy Long / WITF
Members of the Pennsylvania Army National GuardPennsylvania Army National Guard Honor Guard carry the casket of U.S. Army Private First Class Donald Born who went missing during the Korean War but was recently identified. He was laid to rest at Indiantown Gap National Cemetery on Aug. 30, 2022. (Jeremy Long/WITF)
Donald Born joined the U.S. Army when he was 17 years old in 1948. A few years later, on July 30, 1950, he found himself in Korea's southern peninsula fighting off the North Korean army.
His unit withdrew from the battle, but Born was missing. A month later, on Aug. 30, 1950, he was officially declared missing by the Army.
His remains went unidentified for decades. Earlier this year, the Army identified him. And on Tuesday, he finally came home.
witf · Lancaster County native and Korean War veteran Donald Born laid to rest
Dozens of motorcycles escorted a black Cadillac hearse carrying a casket draped in an American flag into Indiantown Gap National Cemetery. The procession crept past rows of American flags whipped in the breeze, and stopped at the Pennsylvania Veterans Memorial.
Members of the Patriot Guard Riders, an organization formed in 2005 to attend funeral services of fallen service members, stood on either side of the walkway holding American flags as six U.S. Army honor guard members carried Born's casket to the center.
Dozens of family members, friends and those who wanted to pay their respects were there to honor Born one last time.
For the family, the mystery of what happened to Born was over.
Amber Hogan, the great-niece of U.S. Army Private First Class Donald Born is presented an American flag during his funeral service. Born went went missing during the Korean War but was recently identified. He was laid to rest at Indiantown Gap National Cemetery on Aug. 30, 2022. (Jeremy Long/WITF)
"The closure for our family is what this is and finally bringing him home," said Amber Hogan, Born's great-niece.
Born's half-sister and Hogan's grandmother, Betty Shue, held onto a sliver of hope that he may have survived the war.
"My grandma had always hoped that maybe he had started a new life in Japan or Korea, or just stayed overseas and never came back," Hogan said. "But we kind of always knew he probably wasn't coming back."
Shue died in 2012.
The quest to identify Born's remains took decades, but the military was committed to identifying them.
Born was never listed as a prisoner of war. In January 1951, the remains of a person were recovered in the area where Born went missing. Researchers believed the remains belonged to Born, but they could not positively identify him and the remains became known as X-220.
The Army issued a presumptive finding of death on Dec. 31, 1953, according to a news release.
U.S. Army Private First Class Donald Born's funeral service who went missing during the Korean War but was recently identified. He was laid to rest at Indiantown Gap National Cemetery on Aug. 30, 2022. (Jeremy Long/WITF)
X-220 was buried in a U.S. Military Cemetery in South Korea and the remains were eventually disinterred and moved to an identification unit in Japan.
X-220 was then transferred to the Defense POW/MIA Accounting Agency lab at Pearl Harbor and buried at the National Memorial Cemetery of the Pacific.
In March 2019, during phase one of the DPAA's Korean War Disinterment Project, X-220 remains were disinterred and sent to a laboratory for analysis.
In 1999, Betty donated a DNA sample. But it wasn't until this year that the military was finally able to identify Born's remains thanks to DNA samples from Betty and Hogan's aunt.
The military called several family members, but no one picked up because they thought the call from an unknown number could be a scam. Then on June 28, a day before Betty's 86th birthday, Hogan picked up the phone.
"My phone rang and I thought it was a scam call, but I had a feeling to answer it," she said. "And that's when they told me they had identified him."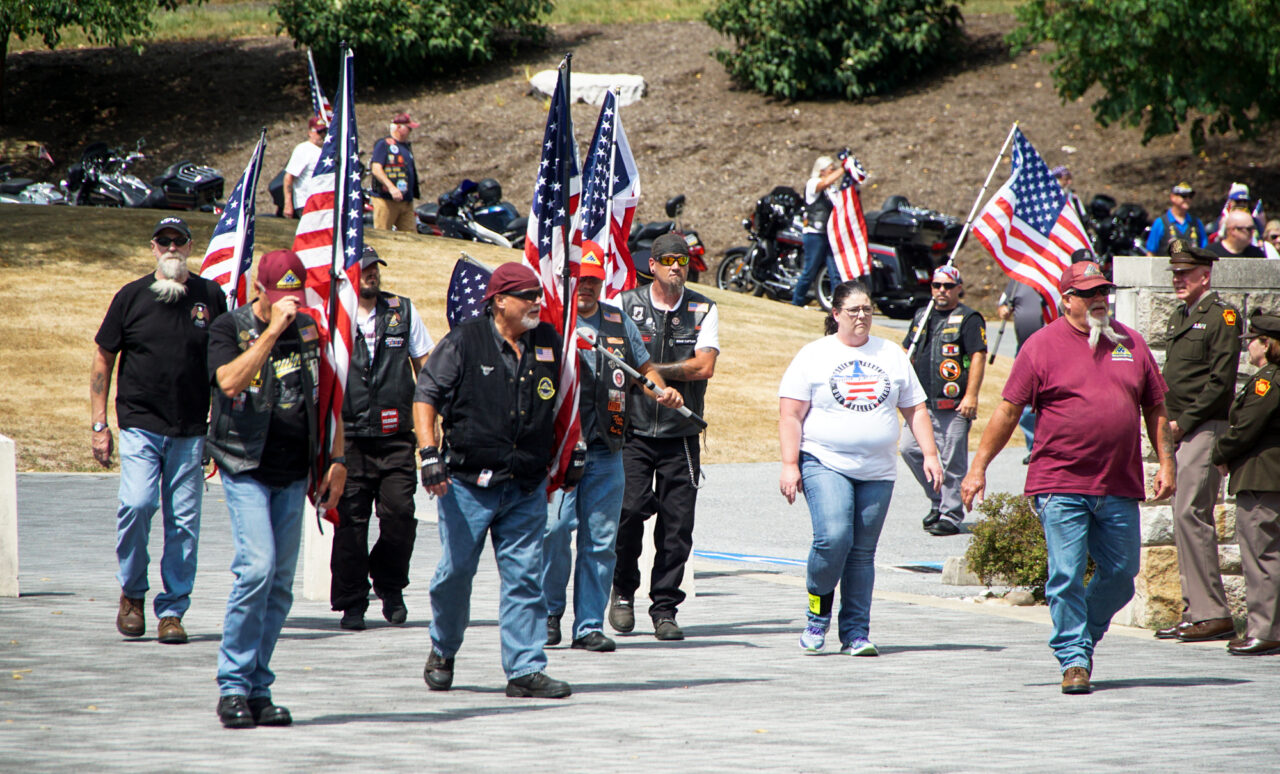 Hogan and the rest of the family could not believe that Born had finally been identified.
That phone call set in motion a whirlwind of events over the past few weeks that ended with what the family has been seeking for the past 72 years.
"This is the final closure, to bring him home," Hogan said. "The final puzzle piece and to know he's here, he's safe and he'll be at peace. No more travels."
At the end of the ceremony, Hogan was presented with Born's medals and the American flag that was draped over his casket.
He is also survived by two nieces, Donna Shue and Deborah Seiz, a nephew William Shue, and numerous great nieces and nephews.
Hogan was presented with Born's medals which were: Combat Infantryman Badge, Purple Heart, National Defense Service Medal, Presidential Unit Citation, Korean Service Medal with Bronze Star, United Nations Service Medal, Army Occupation Service Medal, Republic of Korea Service Medal and Republic of Korea Presidential Unit Citation.
"The flag and the medals will go somewhere very special and then we'll pass that down to our children and their children and just keep it and the family for generations to come," Hogan said.
And as one more way to honor Born, the family held his burial on Aug. 30, the exact day he was officially declared missing by the Army 72 years ago.
This story is part of the content sharing agreement between WITF & Q Hubo News (Some pictures may be only seen in the original post)